Adding a pin to your conversation Pinboard is very simple. All you need is a message in the chat that you wish to pin. Right-clicking on the content will open a drop-down menu, where you can find the Pin action: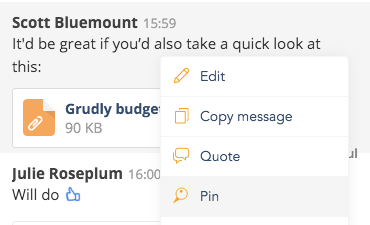 Once you pin a note to the Pinboard, you and other members of the chat can edit or remove the delete contents of this pin. Note that you can also add messages with file attachments to the Pinboard.
Do note that you cannot create pinned messages in email conversations.
Read more from our blog: Pinboards - to pin or not to pin? and Files and messages now united.