In short, @mentions are an easy way to catch someone's attention and to draw them back into a high-priority conversation. To mention someone in a conversation, they need to have selected their Fleep ID.
To mention someone, you need to type @theirFleepID in the message. So if my friend's Fleep ID is julie.roseplum@fleep.io, I will start typing @julie.roseplum in the message and a drop-down menu will appear that will help you select the member by full name and by Fleep ID.

If a name does not instantly show up, it means that the member has not yet set up their Fleep ID and cannot be notified via mentions feature.
How will the mentions look like to the other person?
Mentions are visible in the flow and on the left pane. They appear as links, and clicking on the link opens the contact menu. When you notify someone with an @mention in the conversation the other party will see new activity in the chat with an @-sign next to it on the left-pane and in the All Conversations list.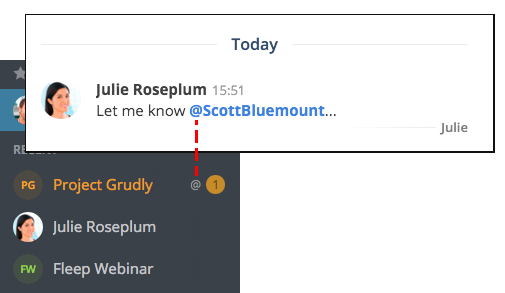 Conversations where you've been mentioned have a higher priority and therefore are sorted above other unread conversations in All Conversations list and on the left pane. Furthermore, when you hover over an @mention in a conversation, it shows the mentioned person's Last Seen information.
Read more from our blog: Did we mention that we've got @mentions?