In short, @mentions are an easy way to catch a Fleep user's attention. To mention someone in a conversation, they need to have selected their Fleep username.
If you wish to @mention someone, you need to type @theirFleepusername in the message. For example, Casey's username is casey.platt@fleep.io. To mention him, Julie started typing @casey in the message box and a popup menu appeared that can be used to select the member to mention:
If a conversation member's name does not show up, it means that the member has not set up their Fleep username and cannot be notified with the mentions feature.
How will the mentions look like to the other person?
Mentions are visible in the message flow and in the conversation list. When you notify someone with an @mention in the conversation, they will see an @ sign next to the conversation's name in the conversation list. In the message flow, the @mentions appear as links - you can click on them to open the contact menu.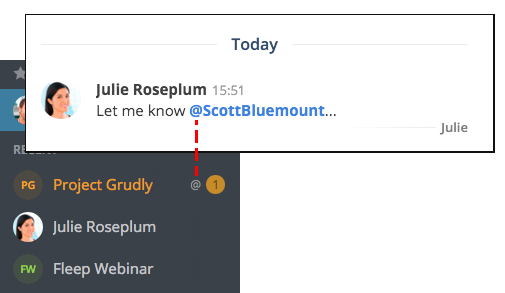 Conversations where you've been mentioned have a higher priority and therefore are sorted above other unread conversations. Furthermore, if you have push notifications enabled, @mentions trigger a notification even if there are previously unread messages in that conversation and even if the conversation has been muted.