Fleep is a messenger that is compatible with email. This means you can send and receive emails in Fleep - with your existing email address (if you connect your email account with Fleep) or with your Fleep username.
The key benefit of managing emails in Fleep lies in how Fleep makes email conversations easier to follow by grouping emails together by membership. So, for example, all emails between Ben and Scott are grouped together into one conversation, even when the Subject changes: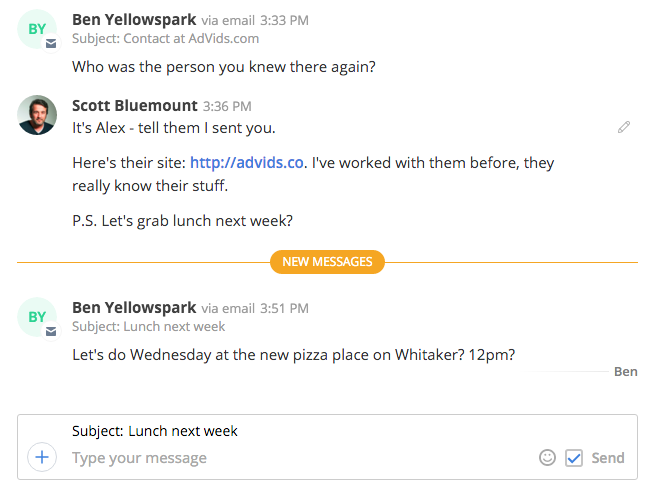 What would be several email threads in an email client is a natural conversation in Fleep.
Other benefits of Fleep over regular email clients include:
All your work conversations in one place - you no longer have to switch between your chat client and email inbox.
File Drawer - every conversation in Fleep has a file drawer that collects all attachments that have been sent and received in that conversation. No more endless search for attachments in your inbox!
Edit sent emails - every email is sent out from Fleep with a 30 second delay, so you can edit any typos or add files you forgot to attach. Simply edit the message within 30 seconds after hitting 'Send', and time stands still until you hit 'Save' for your edits.
Additionally, there are several Fleep-Fleep features you can make use of when communicating with other Fleep users: including Pinboard, Tasks, Presence, and many more. 
Do note that managing emails from Fleep is not for everyone. The key differences from your regular email client being how Fleep groups emails together by membership and not by email threads or subject, and how Fleep is not an email client – it misses some email client functionalities, such as HTML email signatures or BCC.
Here's a quick video tutorial of how Fleep interoperates with email: