Fleep teams act as a group of people you can add to or remove from any conversation. 
When someone is added to the Fleep team they will automatically be added to all team conversations. And vice versa - when you remove someone from the team they will be removed from all team conversations.
Unlike most team messengers, Fleep is an open network. This means that Fleep teams can have participants from within and outside the organization, enabling ultimate team and project communication. It also means you can belong to several teams!
Step 1: Create a team
To create a team in Fleep, open the account menu and select Teams:
If you're not a member of any teams yet, you will be directed to create a team. If you already belong to a team or two, you can use the + Create new team button at the bottom of the window.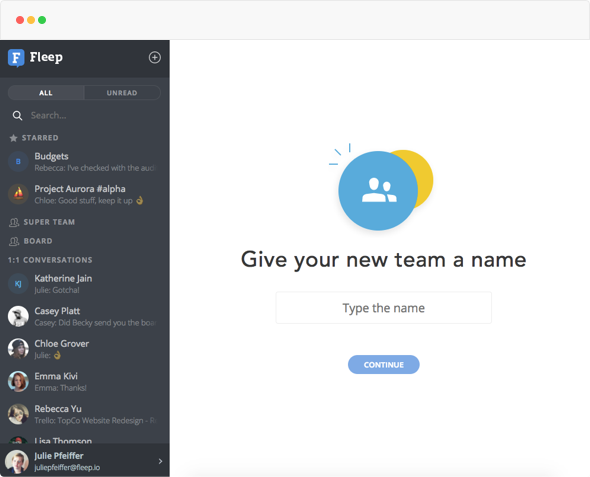 Step 2: Add members 
When creating the team you will be prompted to add members to the team. You can add anyone with their Fleep username or email address - if they're not Fleep uses yet, they will receive an invite to join your team in Fleep. You can also enable joining via the team join link - and share the URL with your team members. 
If you skip this step, you can add members later from the Teams view. 
Step 3: Send a welcome message
In the last step of team creation, you can send the first message to your team. Get the conversation going or post a simple welcome message - this will be posted in the "General" team conversation that Fleep creates for your team.
Step 4: Add team conversations
Next up: team conversations. Fleep automatically creates a "General" team conversation for your team. You can create new team conversations or make an existing conversation a team conversation. Do note that all team members will be added to all team conversations - so conversations meant for a smaller audience should be created separately from the team or with a smaller team instead. 
Click on your profile and choose Teams from the menu that appears. In the Teams view, click on the + ADD CONVERSATIONS button to create a new team conversation or to turn an existing conversation into a team conversation:
Step 5: Start Fleeping with your team!
When you've set up your team and team conversations, you're good to go! You can start Fleeping, using Fleep Tasks to manage your team's to-dos, Pinboards to pin important information, set up a few integrations and much more!