If you're the pioneer looking to implement Fleep at your team or company, this Getting started guide is for you. If you're a new user and have joined a group that's using Fleep, you may want to check out the Fleep 101: A guide for new users.
Step 1: Set up your team
The best way to get started with Fleep is to invite a small pilot group to take Fleep for a spin. To do this, create your Fleep account and open Fleep on your desktop. Click on your profile in the bottom left corner of the window to launch the account menu and select Teams: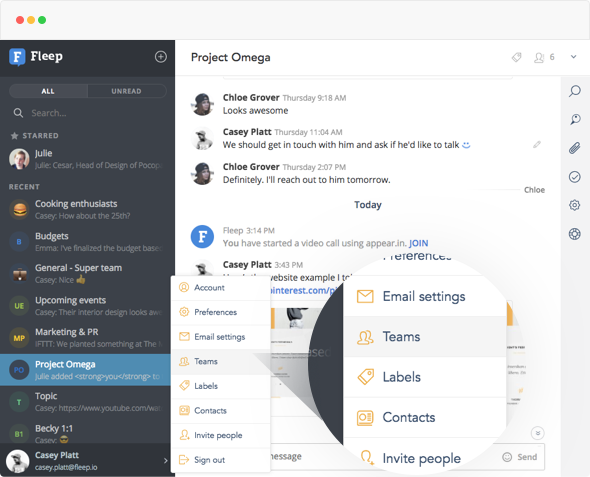 If you're not a member of any teams yet, you will be directed to create a team. If you already belong to a team or two, you can use the + Create new team button at the bottom of the window.
You will be prompted to give your team a name — this can be your company's name, or your department's name for example. Don't worry, you can also change this later. 
Step 2: Invite members
Now, it's time to bring people on board!
Invite people via email
All you need to do is enter the email addresses and they will receive an invite to join you on Fleep. If an email address matches with an existing Fleep user, they will be added to the team automatically.
Invite people with a link
All teams have a join URL. When creating the team, you can enable joining via the team join link — and share the URL with the people you want to join Fleep. They can just follow the URL to sign up to Fleep, and they'll be added to your team automatically. You can also always find the link in the team's settings. 
Step 3: Create conversations
In the next step, it's time to set up your team's conversations. In Fleep, all team members belong to all team conversations, so these will be the conversations where everyone will be included.
Create conversations around different topics
These will vary depending on what your company does. A SaaS business may create conversations around different features. An agency may want to organize their communication around different projects or clients they are working with. 


Create dedicated conversations for different fun and admin purposes
Team chat tools works best when there are separate channels for sharing admin News & Updates, for sharing anything Fun or Offtopic, and even for sharing your team whereabouts (e.g. when someone is working from home, wants to go for lunch etc.).
Pro tip: Start a conversation's topic with an emoji and it will be set as the conversation's avatar ✨
Step 4: Send a welcome message
In the last step of team creation, you can send the first message to your team. Get the conversation going or post a simple welcome message, explaining why you would like to try out Fleep with your team.
Step 5: Further setup
Now that you've got your team all set up, it's time to tailor the workspace a bit further to really fit your needs. 
That's it!
Now, you're all set to get started with Fleeping! Still unsure? You can explore more resources on our Help Center: