Have you joined a team or company that uses Fleep for team communication? Welcome on board! This 101 guide is for you. If you're the person looking to implement Fleep, you may want to check out our Getting started: How to get started with Fleep guide instead.
Step 1: Find your people!
If you're looking to join the people who told you about Fleep, this section of the guide is for you. However, if you've already joined the teams and conversations you were invited to, feel free to skip past this part and go straight to Step 2.
Accept the invite in your inbox
Yes, this isn't exactly rocket science. If you have a Fleep for Business invite, an invitation to a team or conversation in your inbox, use that to join!

If you've already done so, but still don't see the conversations and people in your Fleep, double-check which email the invite in your inbox was sent to. It could be that you accidentally signed up with a different email address and thus cannot join your peeps. If that's the case, kindly ask the person who invited you to add you with your Fleep username. That's a foolproof way to get you in.


Join via a URL
Now, maybe someone you know shared a team or conversation URL with you. Use these and you can join the team or conversation accordingly. 

If you're having issues here, it's most likely the URL has been made private and someone in the conversation (or team) will have to change the Privacy setting to enable joining via the link.


Create conversations with the users you know
You can create conversations with any other Fleep users. Simply use their email address or Fleep username when creating a conversation and you're connected!

Read more: How to create a conversation? 
Step 2: Set up your profile and preferences
You'll have the basics set from when you signed up, but do take a moment to make your account yours.
Add a profile photo
If you don't have one already, add a profile picture to your Fleep account. You can do this from your Account settings.

Read more: How can I add an avatar?


Add your contact details
If you didn't add your phone number during sign up, now would be a good time to do so. You can also add several email addresses — others can then use these to find you in Fleep.

Read more: How can I change my profile information?


Configure your preferences
Now, you may not know yet what will be your preferred notifications frequency or how you want to organize your conversations. But do take a look at the Preferences and Labels settings from the account menu — these will come handy for when you want to customize how you use Fleep further.

Read more: 14 Fleep Features You May Not Know About - Fleep Blo
Step 3: Download Fleep apps for your devices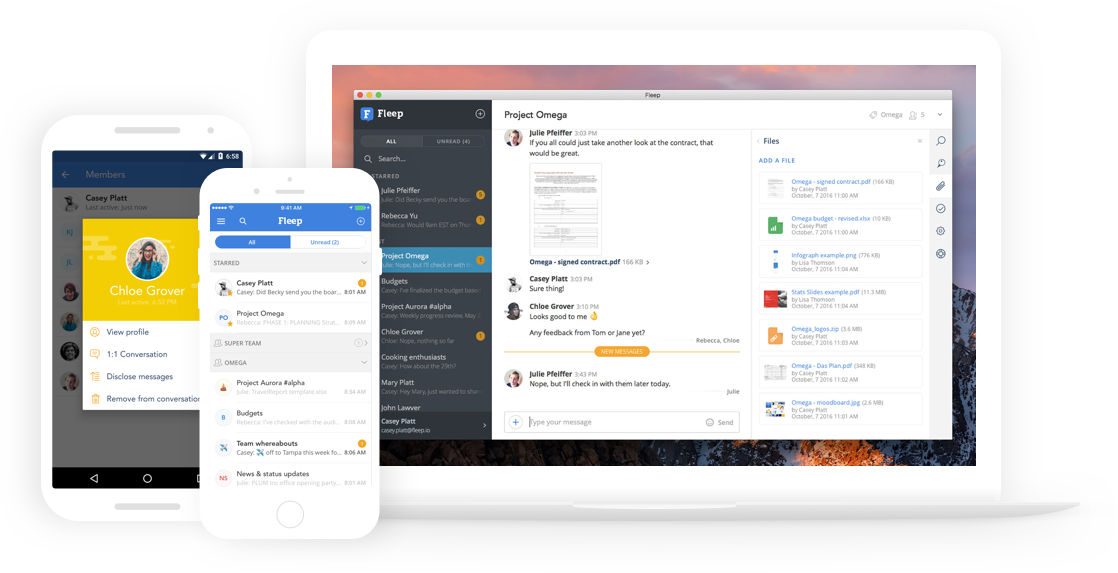 You can always use Fleep from a desktop browser at fleep.io/chat, but our desktop and mobile apps will make using Fleep even more comfortable. With the apps, you have more control over your push notifications, you can log into several accounts and you can keep Fleeping when you're on the go!
Mobile apps: iOS, Android
Desktop apps: macOS, Windows, Linux
You're good to go!
Now you're all set up to start Fleeping! You can always set up more conversations, teams or customize how you use Fleep, of course. See some further resources below:
If you're still unsure about how and why to use Fleep, check out our guide to team communication and our thoughts on team chat culture.